An all-in-one efficient complex feature extraction and 3-D modeling system
FeatureXTract™ is an all-in-one complex feature extraction and 3-D modeling software system developed with the defined objective of improving the process workflow experience. Its purpose is to maximize the efficiency of modeling by providing accurate and easy-to-use precise software tools. Through its tight integration with geo parameters and standards, FeatureXTract allows users to explore, discover, and accurately reference 3-D spatial content in their data and truly forge ahead with advanced modeling tools.
FeatureXTract is available as a standalone COTS application or in fully integrated GOTS form as part of IApioneer.
> Simplified 3-D Modeling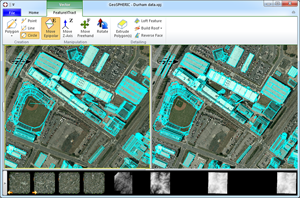 Using FeatureXTract, you perform 3-D modeling with multiple overlapping images, using simple controls to create complex shapes and facilities.
3-D models are created with:

Side-by-side imagery
Manual shape creation tools

Points
Polylines
Polygons
Boxes
Right angle tools

Wizards for complex geometry
Extrusion to DEM or similar surface data
Simple tools for editing the 3-D models
> Handles Complex Geometries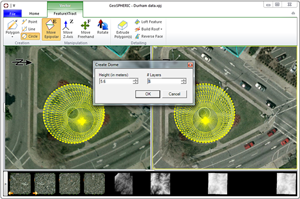 FeatureXTract has a number of tools to simplify the modeling process for certain complex geometries:

Loft polygons and points to form pyramids, cones, and other projected shapes
Automatically generated roof styles from simple gutter lines

Pitched roofs
Cylindrical (barracks-style) roofs
Gable roofs
Gambrel roofs
Saltbox roofs
Hipped roofs
Parapet roofs
Mansard roofs
Pyramid roofs
Barrel vaults
Pointed vaults
Walls
Domes
Others
> Common Format Viewing/Exporting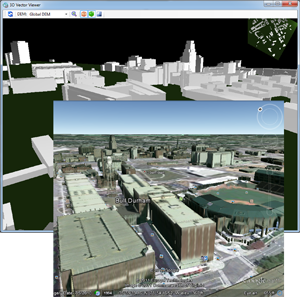 FeatureXTract contains a 3-D viewer to examine the generated models. You can also export the 3-D model to a number of common formats, including:
Shapefile
OpenFlight
Collada
KML files suitable for ingestion in Google Earth